Main Menu in Vivaldi on Android
This post is also available in:

日本語

Français

Español

Deutsch

Српски

Português

Български
Main Menu in Vivaldi on Android gives you access to most of Vivaldi's key features and tools.
Access the Main Menu
Whether you're using the browser on a small phone screen, a large tablet screen or from your car's center console, the menu can always be accessed from the right side of the Address Bar. Just tap on the

Vivaldi logo to open it. The options available in the menu depend on whether you have open a web page or the browser's Start Page.
To close the menu, tap on the feature you want to use or on an area outside the menu.
---
On smaller screens, in the Main Menu, there's a menu bar with 5 of the most important menu options. There's more screen real estate on larger screens, so the menu bar is not available on tablets and the like. Since the importance depends on the person using the browser, you can customize the menu bar to fit your needs.
To customize the menu:
Go to Vivaldi Menu > Settings > General > Menu Settings.
Choose between the 2 presets or make your own menu.
To put together your own custom layout for the menu bar:
In the Main Menu Layout settings, choose the third option, Custom layout.
Move the menu items you want to see on the menu bar to the first 5 positions in the list.
To reorder menu items, long press on the item you want to move and drag it to your preferred position.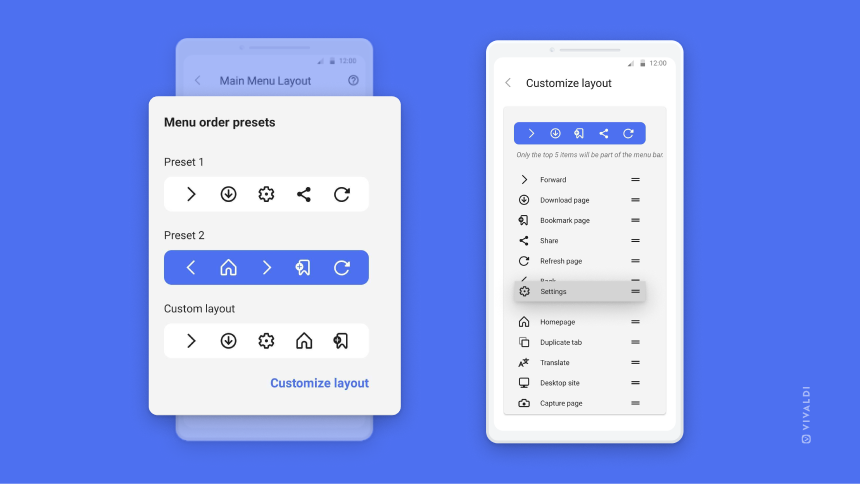 Was this page helpful?
Let us know if something's missing from this article. That's the only way we can improve.