Vivaldi gives you a free webmail account at Vivaldi.net. No ads and no strings attached.
Your Vivaldi.net webmail
Storage capacity: 5GB
Maximum attachment size: 20 MB
Self-learning spam filter
Get started
To get started with your Vivaldi.net webmail account:
Go to mail.vivaldi.net.
To log in, use your Vivaldi.net username and password.
Import mail from another account
The best way to move all of your emails from your current provider is to set up your email client (e.g. Opera M2, Thunderbird, etc.) with both Vivaldi.net webmail and your current email providers account using IMAP. Once you set up both, you can move emails from your current mail provider's IMAP folder to Vivaldi Mail IMAP folder.
After you move all the emails, you can use the Vivaldi.net webmail web interface. If you want to move sent emails, don't forget to move the email in Sent folder or similarly named IMAP folder.
After the migration, you can also configure your email provider to forward all incoming emails to your Vivaldi Mail address to avoid checking multiple accounts.
Setting up Vivaldi webmail in your mail client
In your desktop or mobile email client create a new mailbox account using the following settings:
Incoming mail:
IMAP:
Server: imap.vivaldi.net
Port: 143
Authentication method: normal password
Connection security: STARTTLS
IMAPs:
Server: imap.vivaldi.net
Port: 993
Authentication method: normal password
Connection security: SSL/TLS
POP3:
Server: pop3.vivaldi.net
Port: 110
Authentication method: normal password
Connection security: STARTTLS
POP3s:
Server: pop3.vivaldi.net
Port: 995
Authentication method: normal password
Connection security: SSL/TLS
Outgoing mail:
SMTP:
Server: smtp.vivaldi.net
Port: 587
Authentication method: normal password
Connection security: STARTTLS
Contacts
Adding new contacts to the address book:
To add someone, who has sent you an email, click on the 'Add to the address book' icon between the sender's name and the email's date.

On the Contacts page, click on the 'Create new contact' button at the bottom of the Contacts column.
Contacts can also be imported from vCard or CSV files.
While composing a new email, contacts from the address book can be added to the email by typing in some part of the contacts name or email to the recipient's field or from the Contacts column on the left by selecting a contact and clicking on either the To+, Cc+ or Bcc+ button at the bottom of the page.
Calendar
Emails can be saved to the calendar as events from More > Save as event.

Events shared with you can be saved to your Calendar by clicking on the small downward arrow next to the attached event file and selecting 'Save to Calendar'.
Events can be sent to others by opening the event and selecting Send from Options.
Identities
In Vivaldi Mail all emails need to be delivered to and sent from [email protected] This means that different aliases, unfortunately, can't be used. But, if you have set your Vivaldi Mail up in a mail client, you may use plus addressing (also known as sub-addressing). With plus addressing you can add a keyword to your email address ([email protected]) which allows you to create different variations of the email address. Everything between the + and @ symbols is ignored when deciding, to which account the email belongs to.
You can also create Filters with these addresses to automatically organize your emails into different folders.
Filters
Filters are a good way to automatically organize your mailbox. In Vivaldi Mail you can create filters, for example, to move incoming emails to a specific folder, to forward them to another email address or to reply with a predefined message.
To create a filter go to Settings > Filters. You can create and edit groups of filters under Filter sets. To create a new filter click on the big + icon at the bottom of the Filters column. Add a filter name, make a rule and decide what sort of action should be executed. Don't forget to save the filter.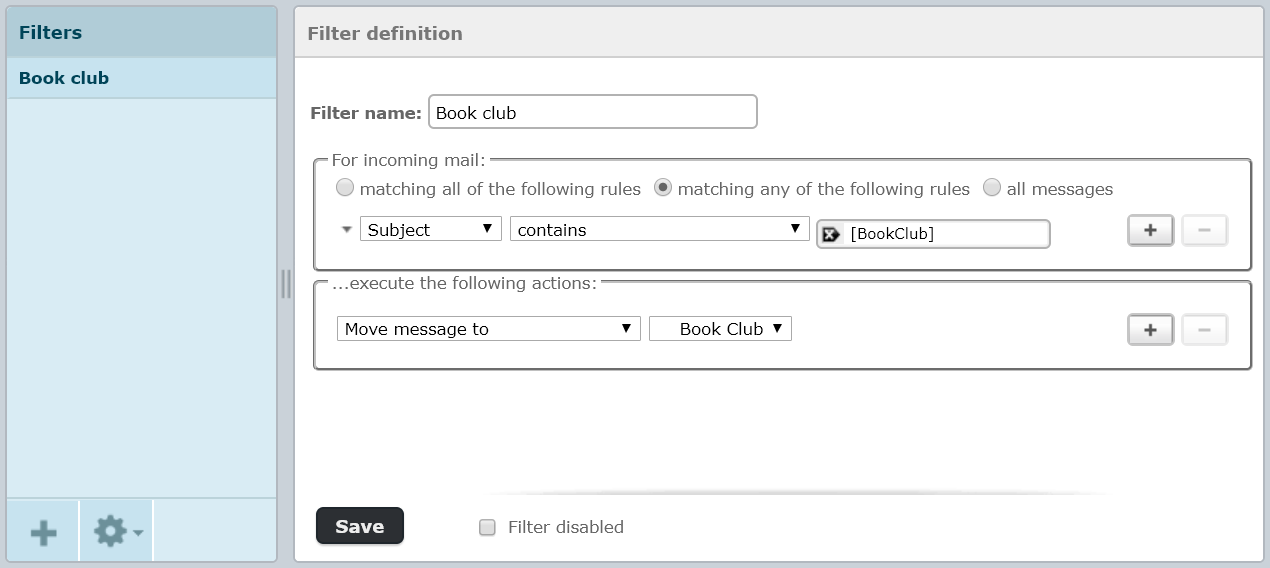 Encryption
If you want to send and receive encrypted emails:
in Settings > Preferences > Encryption enable:

message encryption and signing
message signatures verification
message decryption

Import or create a new key pair(s) in Settings > PGP Keys
Share your public key with the person(s) you want to have encrypted conversations with by attaching it to an email.

And save PGP keys sent by others, by clicking on "This message contains attached PGP key(s)".

When composing an email, check the boxes for Digitally sign this message (asks for the account password) and/or Encrypt this message (see the image in the 3rd point).
Numerous additional options to customize the mailbox and its features can be found in Settings.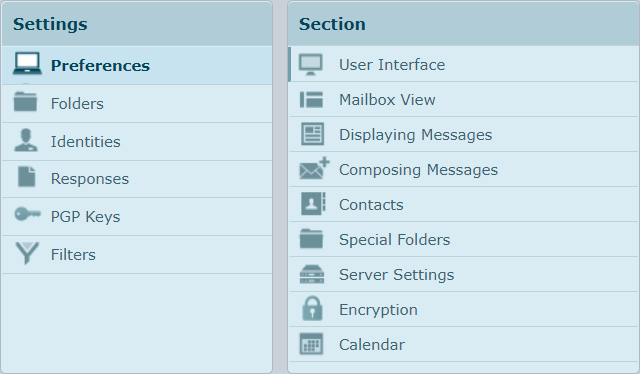 Trouble logging in?
In case you can't access your account, check out our suggestions here.
If you didn't find an answer to your question in this article, don't hesitate to contact us. Select 'Vivaldi.net account and services' under 'I need help with' and describe the issue in as much detail as you can.