In this article we'll show you how to find, follow, organize and read blogs on Vivaldi.net.
Reading blogs
There are three options for reading blog posts on Vivaldi.net:
In the blog feed. This option works best for shorter posts.
In a modal window, which you can open by clicking on Read more on the right side under the blog text. You can also read and write comments there.
On the blog's page, which you can open by clicking on View original in the modal window.
Finding and organizing blogs in the Reader
Feeds
You will find a feed of blog posts by members of the Vivaldi Community and the Vivaldi team on "Your blog title" > Dashboard.
By default, most recent blog posts show up on top of the Reader, but it's also possible to sort posts from the column on the right side of the page by:
Featured Posts
Following
Popular Posts
My Sites
You can search for blogs in the right column by title, author or tags.

If you found a blog  you'd like to keep an eye on, click on Follow in either of these three locations:
one of the blog's posts in the Reader
below the title in the modal window
from the top menu on the blog's page
Lists
An addition or alternative to following blogs is adding and organizing them into Lists. There are two options for creating a list and adding blogs to it.
From the right side of the page in My lists > Create new list and add blog links manually.
From the footer of the post when adding a blog to a list, it's possible to create a new list at the same time.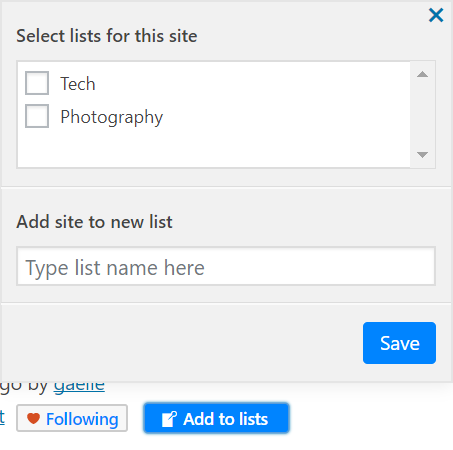 Was this page helpful?
Let us know if something's missing. That's the only way we can improve.