With Speed Dial in Vivaldi, quickly access your favorite websites.
How to:
1. Add bookmarks to the Speed Dial
Click the big '+' button on the Speed Dial page.
Type a website address, or choose one from the suggestions in the bottom panel.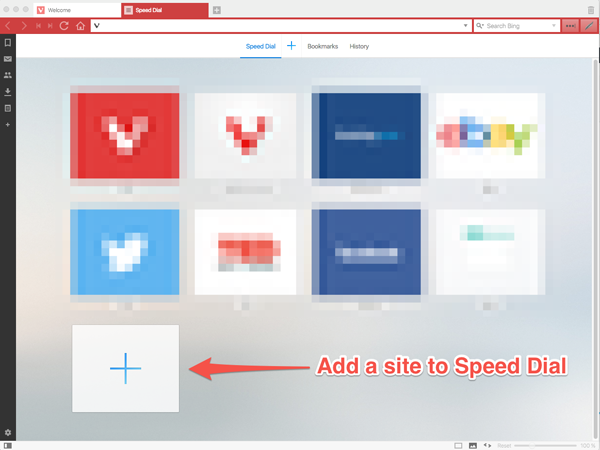 2. Delete a Speed Dial bookmark
Click on the cross on the upper right corner of the bookmark thumbnail.
3. Set any bookmark as a Speed Dial
Copy or move bookmark to the Speed Dial bookmark folder in the Bookmark Panel.
4. Organize your Speed Dials
Click the + button as if you were adding a new website to a Speed Dial and click the New Folder button below the address field.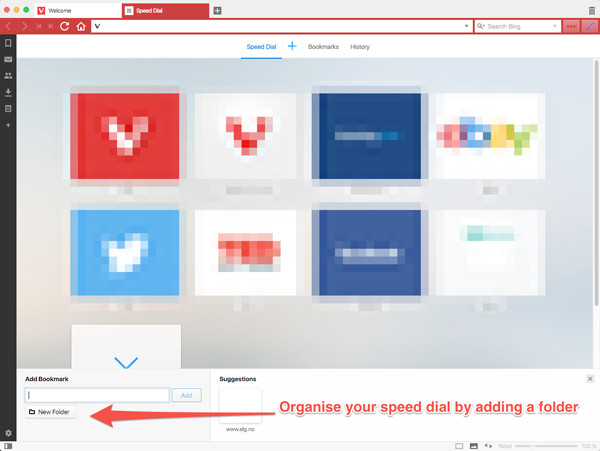 5. Create a new Speed Dial
Click the + button on the Start Page navigation located next to Bookmarks and History entries to add new Speed Dial.
Tip: Any existing bookmark folder can be set as a Speed Dial. Select any bookmark folder in Bookmarks Panel and check Use as Speed Dial option.
How to change the background of the Speed Dial page
Go to Setting / Preferences > Start Page.
Tick the Show Background Image box.
Choose between the pre-set backgrounds or add your own background image.