Website permissions
This post is also available in:

日本語

Русский

Français

Español

Deutsch

Nederlands

Српски

Українська

Български
Permissions in Vivaldi
Autoplay
Location
Camera
Microphone
Motion sensors
Notifications
JavaScript
Flash
Images
Pop-ups and redirects
Intrusive or misleading ads
Background sync
Sound
Automatic downloads
MIDI devices
USB devices
File editing
Unsandboxed plugin access
Clipboard
Payment Handlers
Idle Detection
Only a few are allowed by default, some are blocked outright and as for the rest, your permission will be asked every time a new site wants access to any of the options listed above.
---
Changing website permissions per website
When a website needs access, for example, to your camera, a notification dialog will be displayed below the right side of the Address Field. Make a decision to either allow or deny the website permission to access your camera. Vivaldi will remember when you deny permission and will block the website from asking you the same question again.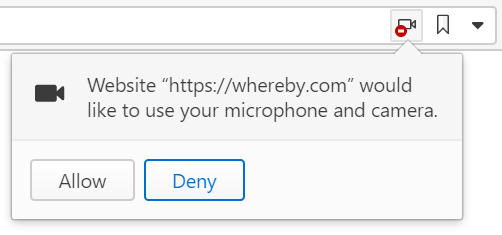 In case the dialog closed before you could decide, click on the permission icon to the right of the Address Bar (the one with the red mark on the image above) to display it again.
To change multiple permissions per site, open the

Site Info menu from the left side of the Address Field and go to Site Settings. There you can also Reset permissions for the website.
---
Changing website permissions globally
To control some website permissions globally, open Settings > Privacy > Default Permissions. Then decide whether sites should ask before giving permission, should always be allowed or should be blocked by default.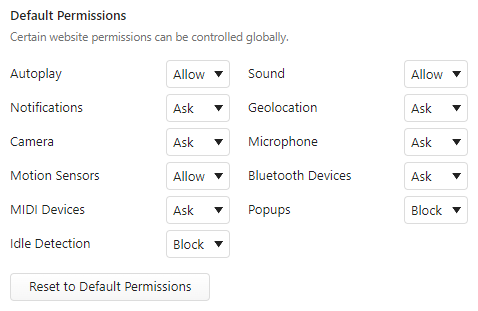 To see and edit the list of websites you've given or denied permissions, open chrome://settings/content. Even though we use Chrome's interface and link, the settings are for Vivaldi.
Click on View permissions and data stored across sites to view permissions per site or click on each of the permissions to see which sites are allowed or blocked. To remove a website from the list, click on the

Delete button on the right side. Then, if the permission is set to Ask, you'll be asked for permission again next time you visit the site.
Was this page helpful?
Let us know if something's missing from this article. That's the only way we can improve.