Privacy and Security Settings
This post is also available in:

日本語

Français

Español

Deutsch

Nederlands

Српски

Português

Български
Vivaldi's privacy and security settings give you solid control to safeguard your private data.
By default, each setting has either been enabled or disabled based on what we believe is in our users best interest, but you'll of course have the option to toggle each setting in Settings > Privacy and Security.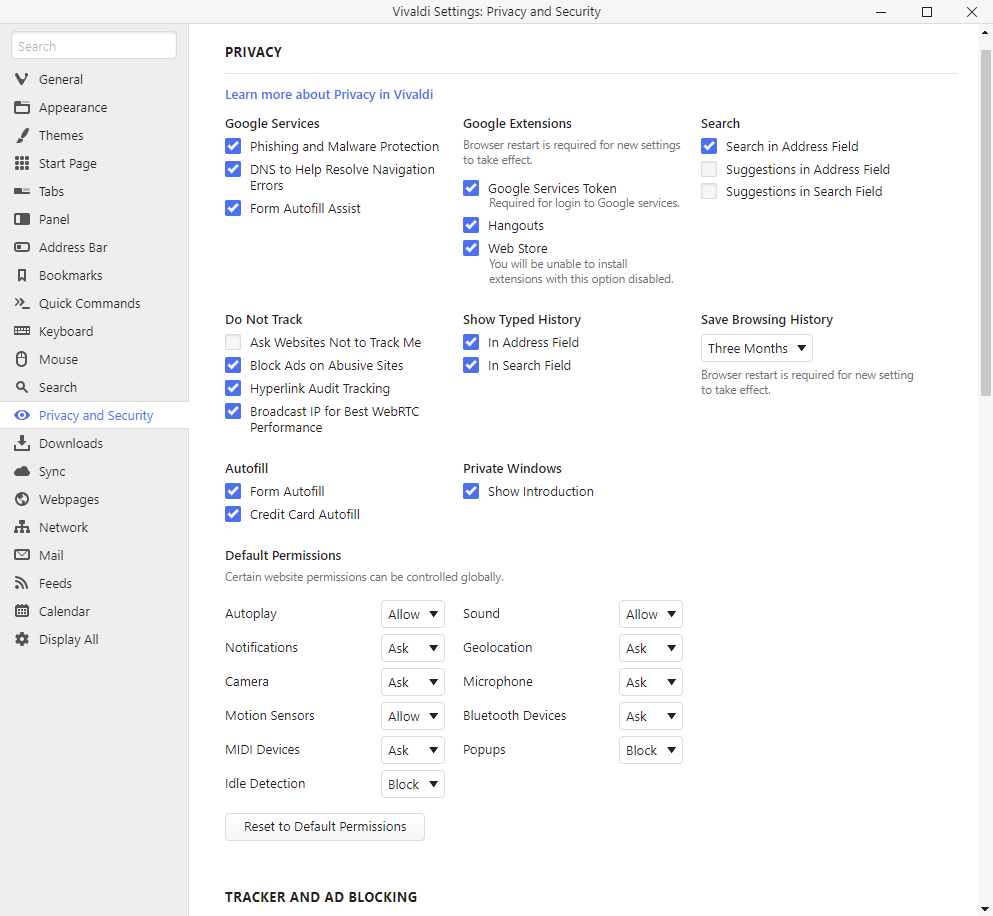 ---
Google Phishing and Malware Protection
The Safe Browsing API by Google, which is enabled by default, checks the site you are visiting against a master blacklist of known suspected phishing and malware sites before loading the website. If the site is on the blacklist instead of loading the site you'll be shown a warning message and encouraged to return to the previous website.
To protect your privacy, instead of sending a list of websites you've visited to the service provider, Vivaldi is given a file which describes every URL that is known to be malicious, using an approximation method.
---
The Google DNS (Domain Name System) Service will give you the IP address of the website you want to visit in case your ISP (Internet Service Provider) fails to do so properly (in some cases the ISP may have faulty DNSs).
The Google DNS server addresses (8.8.8.8 and 8.8.4.4) have been hardcoded into Chromium, on which Vivaldi is built. The setting is enabled by default, but can be disabled in Settings > Privacy and Security.
---
Assist in Form Autofill using a Google Service
For user convenience, the browser saves your form fill data (such as addresses and payment details) and fills forms automatically next time a site includes a similar form. This feature has been provided by Google, but none of the data you enter will be sent to Google, only the types of data you submit.
To edit and delete entries or disable autofill altogether, you currently need to go to chrome://settings > Auto-fill > Payment methods / Addresses and more.
---
Google Extensions
Google provides many popular services. The use of some of these services are tied to Google extensions that are bundled into Chromium based browsers. They're enabled by default, to provide a smooth user experience for users, who use these services. At the same time, we want to give users that are more privacy conscious and don't use Google's services an option to disable them.
Google Services Token – login to Google accounts will not be possible, when this extension has been disabled.
Hangouts – needs to be enabled to share your screen during Google Hangouts/Meet calls.
Web Store – it won't be possible to add Extensions from Chrome Web Store to Vivaldi, if this setting has been disabled.
---
Search Suggestions
Search suggestions have been disabled by default, as everything you type, even if you don't complete the search, is sent to your selected search engine. Read more on this topic on our blog.
They can be enabled/disabled separately for:
both in Settings > Search and Settings > Privacy and Security.
Enabling Search suggestions for chosen search engines
To get suggestions only from search engines that you trust, go to:
Select the search engine you do not want to see suggestions from;
Empty the Suggest URL field;
Click Save.
---
Tracking Prevention
In Settings > Privacy and Security, you can also enable the option Ask Websites Not to Track Me. It's a polite way of asking websites not to set tracking cookies. However, they can simply ignore it, and in most cases, the ones you want to avoid will be the ones who do not respect your request.
---
Block Ads on Abusive Sites
Enabled by default, Vivaldi blocks advertisements on sites with abusive ad practices. Learn about it on our Help Page about the Abusive Ad-Blocker.
For additional content blocking take a look at the help page about Vivaldi's Tracker and Ad Blocker.
---
Hyperlink Audit Tracking
Some web links include parameters that "ping" the website owner when the link is used allowing them to track user behavior in relation to the link. To prevent this kind of tracking, enable Block Hyperlink Audit Tracking in Settings > Privacy and Security > Do Not Track. Please note that enabling the setting may break some websites.
---
WebRTC IP Handling
Broadcasting IP for Best WebRTC (Web Real-Time Communication) performance is most relevant for users browsing over a VPN connection, who want to hide their IP even from websites using WebRTC to check real IP addresses.
In Vivaldi, broadcasting has been enabled by default, meaning websites can see your IP address, though, often just the internal network IP address. Disabling this setting will increase your privacy, but can cause issues with how websites function.
---
Typed History
You can decide, whether you want to display what you've typed previously in the Search and Address Fields.
---
Website permissions
Learn about website permissions on the help page here.
---
Tracker and Ad blocking
Learn about blocking trackers and ads in Vivaldi on the help page here.
---
Certificates
View and manage HTTPS/SSL certificates and their settings.
---
Passwords
Learn about storing login passwords in Vivaldi on the help page here.
---
Cookies
Learn about managing Cookies in Vivaldi on the help page here.
Was this page helpful?
Let us know if something's missing from this article. That's the only way we can improve.