Block Trackers and Ads
This post is also available in:

日本語

Русский

Français

Español

Deutsch

Nederlands

Српски

Українська

Polski

Dansk

Português

Български
In addition to not tracking you, Vivaldi can protect your browsing experience from web trackers and ads.
Tracker blocker
Tracker blocker prevents ubiquitous web trackers from following you around the web and from gathering personal data about you. When the feature is enabled, trackers are blocked by relying on lists of well-known tracker URLs and stopping requests to those URLs before they are ever sent.
---
Ad blocker
While blocking trackers, the Tracker Blocker also blocks many of the ads on websites. So, the Ad Blocker can be viewed as an additional level of protection you can use to block ads that the Tracker Blocker hasn't already blocked.
We recommend blocking trackers on all sites, but blocking ads only on sites where they are intrusive or distracting. As ads are a big, if not the only, source of revenue for most websites consider not enabling Ad Blocker by default to support content makers.
In case you've used Extensions to block ads so far, then with Vivaldi's built in Tracker and Ad Blocker using blocker extensions is no longer necessary. But Extensions are still an option for those, who prefer them.
---
Blocking settings
To change the blocking level for all websites:
Go to Settings > Privacy > Tracker and Ad Blocking;
Choose between:

No Blocking,
Block Trackers, or
Block Trackers and Ads.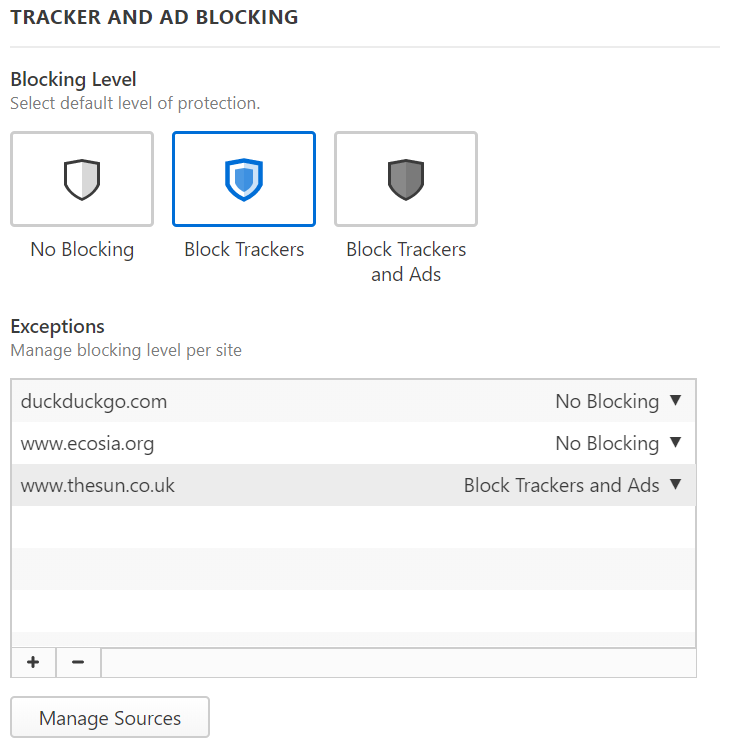 ---
Blocking per site
To change the blocking level for a particular website, while the site is open in the active tab:
Click on the Content Blocker button on the left side of the Address field;
Choose between:

No Blocking,
Block Trackers, or
Block Trackers and Ads.
Alternatively, you can add sites to the Exception List in Settings > Privacy > Tracker and Ad Blocking > Exceptions:
Click on Add Site Exception;
Enter the website's link;
Select the blocking level;
Click Add Site.
To change the level of blocking for exceptions:
Click on the arrow next to the current blocking level;
Choose between:

No Blocking,
Block Trackers, or
Block Trackers and Ads.
To remove a website from the Exceptions List:
Select the website;
Click on Remove Site Exception.
When you've enabled at least some level of blocking, you can click on the

Content Blocker button to see exactly how many and which trackers have been blocked by Vivaldi's Tracker and Ad Blocker.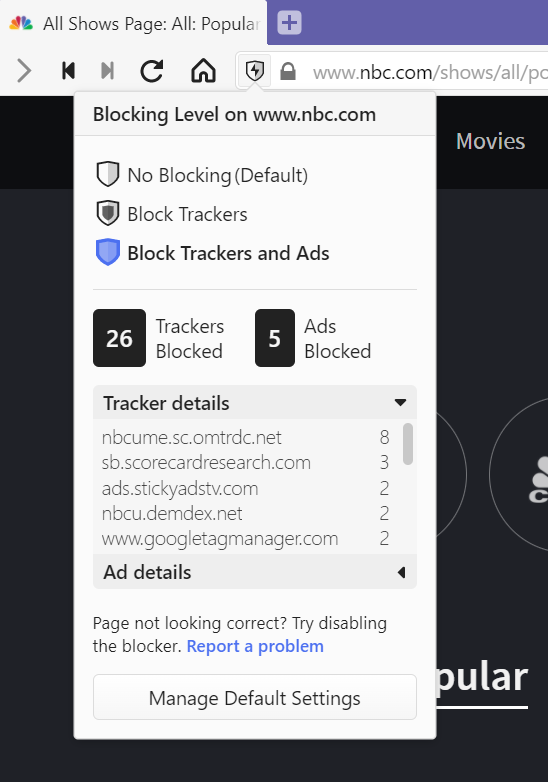 ---
Blocking Sources
You can view and manage Tracker and Ad Blocking sources in Settings > Privacy > Tracker and Ad Blocking > Manage Sources.
To enable a blocking source, tick the box in front of the listed source. Untick to stop using the blocking source.
Adding Lists
If the blocking source you want to use for Tracker and Ad blocking isn't already listed, you can import more sources by:
Clicking on Add List;
Enter the URL of the blocker rules or browse for the file on your computer;
Click Import.
---
Hide Cookie warnings
Since Europe's GDPR and a few other user privacy laws don't allow placing cookies in your browser without consent, most websites ask for your permission as the first thing after the web page is loaded. The fastest option is to just accept everything, which always serves the interests of the website not the user. The other option is to manage your preferences and disable the data usage options all at once, if you're lucky, or one by one, if the website wants to make it especially cumbersome.
Vivaldi offers a third option by including two blocker lists in the Ad Blocker that hide these banners and dialogs on most websites. To enable these lists:
Go to Settings > Privacy > Tracker and Ad Blocking;
Enable Block Trackers and Ads;
Click on Manage Sources;
In Ad Blocking Sources enable "Remove cookie warnings (Easylist Cookie List)" and "Remove cookie warnings (I don't care about cookies)".
If you only wish to hide the cookie warnings, but don't want to block ads, disable other blocking sources.
Please note that not all cookies are used for creating behavioral profiles about users. Some are necessary for the website to function. When the website you're viewing doesn't look or work as it should, please disable the blockers. You can do so per site from the Content Blocker menu on the Address Bar.
Was this page helpful?
Let us know if something's missing from this article. That's the only way we can improve.