Setting a folder to populate the Bookmark Bar
All Bookmarks you want to see on the Bookmark Bar need to be organised into one folder. This folder can also include sub folders of Bookmarks.
To set a folder for the Bookmark Bar:
open either the Bookmarks Panel or the Bookmarks Manager;
find the folder you want to see on the Bookmark Bar and select it;
tick the box for Bookmark Bar.
The Bookmark Bar will be enabled automatically and you'll see the bookmarks (and bookmarks sub folders) on the Bookmark Bar.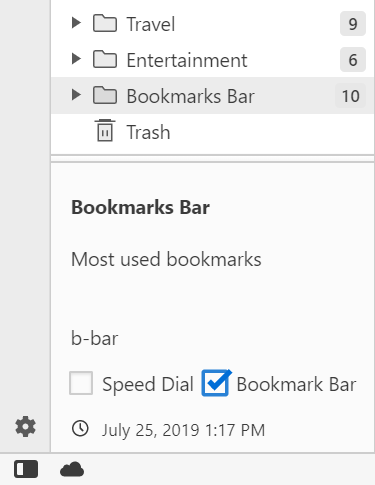 Alternatively, select the folder in 

Settings > Bookmarks > Bookmark Bar > Select Bookmark Bar Folder.
---
Bookmark Bar Settings
In

Settings > Bookmarks you can:
toggle Bookmark Bar's visibility;
select which folder will be shown there;
change the location of the Bookmark Bar;
decide, how the bookmarks will be displayed.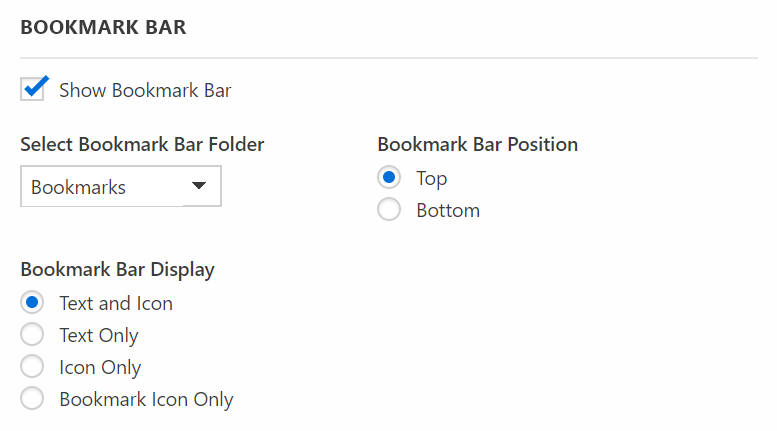 Right clicking on a Bookmark, bookmarks folder or empty space on the Bookmark Bar will reveal some additional options for opening and managing bookmarks.
Was this page helpful?
Let us know if something's missing. That's the only way we can improve.