On this page you can see information on accessing, adding, organizing, importing and exporting bookmarks.
There are four ways to quickly access your bookmarks
From the Bookmarks Bar
From the Bookmarks Panel
From the Address Bar via auto-completion
From Quick Commands via auto-completion and nicknames.
You can manage your bookmarks in Bookmark Manager, accessible via Tools > Bookmarks application menu.
How do I add new bookmarks?
Click the bookmark icon to the right in the Address Field, or
Manually in the Bookmarks Panel
Then add the URL, a description and a nickname. (Only the URL is mandatory.)
Keyboard shortcuts
New bookmarks can be added by using the Ctrl D / ⌘ D shortcut.
Organize your bookmarks
Bookmarks can be organized in folders. You can set any bookmarks folder to be the one populating the Bookmarks Bar or add it as a Speed Dial to the Start Page.
Importing bookmarks
Bookmarks can be imported from:
Microsoft Edge
Microsoft Internet Explorer
Opera 12.x
Mozilla Firefox
Chrome
Chromium
Vivaldi
Bookmarks HTML File
Opera Bookmarks File
To do that, click on the "V" icon (Windows and Linux users), select File > Import Bookmarks and Settings  and select, where you want to import the bookmarks from.
Exporting bookmarks
To export bookmarks from Vivaldi, click on the "V" icon (Windows and Linux users) > select File > Export Bookmarks. Bookmarks will be saved as an HTML file.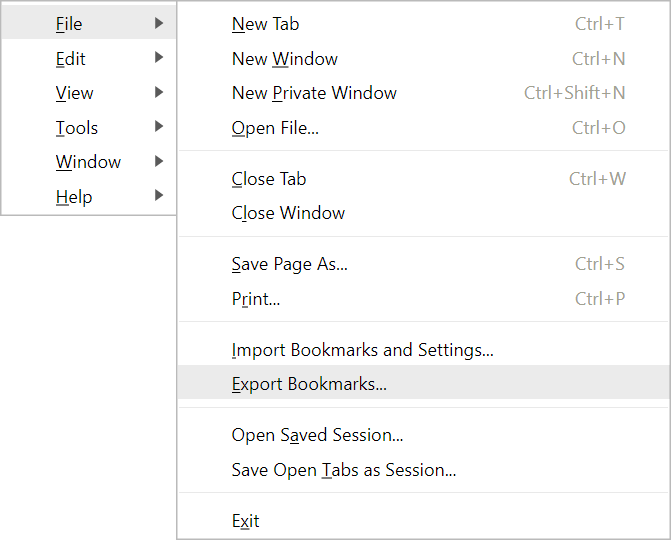 If your other computer uses any chromium-based browser, not just Vivaldi, necessary files can be copied across manually from the file manager.
To do that:
Open

vivaldi://about

.
Make a note of the directory listed under *Profile Path:*.
Open a system window (Finder or Explorer).
Search for Vivaldi folder following the path you noted above.
Copy across bookmarks, history, tabs, etc (see image below).

If you want to copy your files to a non Vivaldi browser, exclude Notes and Preferences files.