We build Vivaldi with the needs of our sizable community in mind. If you have an idea for a feature you'd like to see in the browser, let us know!
With the release of Vivaldi 1.14, Vivaldi introduced a new way of requesting features. Here are the steps to follow.
Login to the forum and go to the Feature Request category.

Search to make sure the feature you have in mind hasn't been requested already. To search for a feature, click on the Search button in the top black menu bar > enter the search term > in 'Advanced search' select the 'Feature Request' category > check the box for 'Search child categories' to include subcategories and the Archive.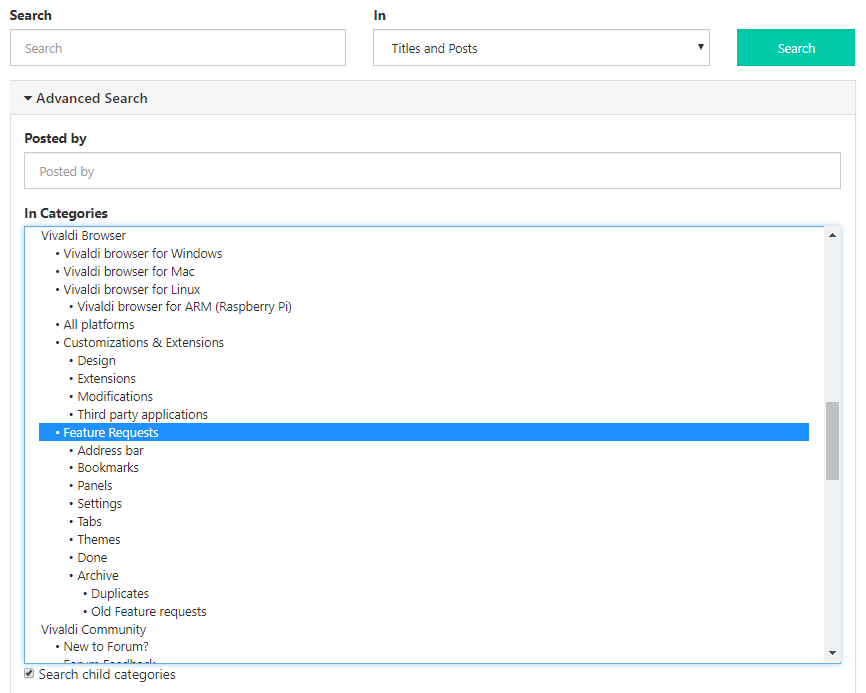 Upvote features you like. Upvote by clicking the "up" arrow.
If the feature hasn't been requested, start a new topic. Post only one feature request per topic.

If possible, post in the relevant subcategory. Admins and moderators may move your post, if they feel there's a better location for your request. You can see all your posts on your profile.

Choose a clear and concise title for the topic and describe the feature in more detail in the body of the post.

Duplicate feature requests will be tagged as such and moved to Archive.

Discuss requested features under each post.

Check tags such as "Done", "In progress", "Pipeline", "Duplicate" and "Will not do" for the status of requested features.

Feature requests can be sorted by "Newest to Oldest", "Oldest to newest", "Most posts (most discussed)" and "Most votes".

Offensive language and ALL CAPS posts will be edited or even deleted.
Don't have a Vivaldi.net account? Find out here how to create one. 

Thank you all for being part of our journey and for helping us make Vivaldi the browser you need it to be!
Was this page helpful?
Let us know if something's missing. That's the only way we can improve.