Themes
This post is also available in: 日本語 Русский Español Português Français Nederlands Српски Ukrainian
Changing the interface of Vivaldi with Themes
Go to Settings > Themes to:
Select one of the predefined themes;
Edit a predefined theme by selecting a theme and then clicking the Edit Theme button, or
Create your own theme by clicking the Add Theme button.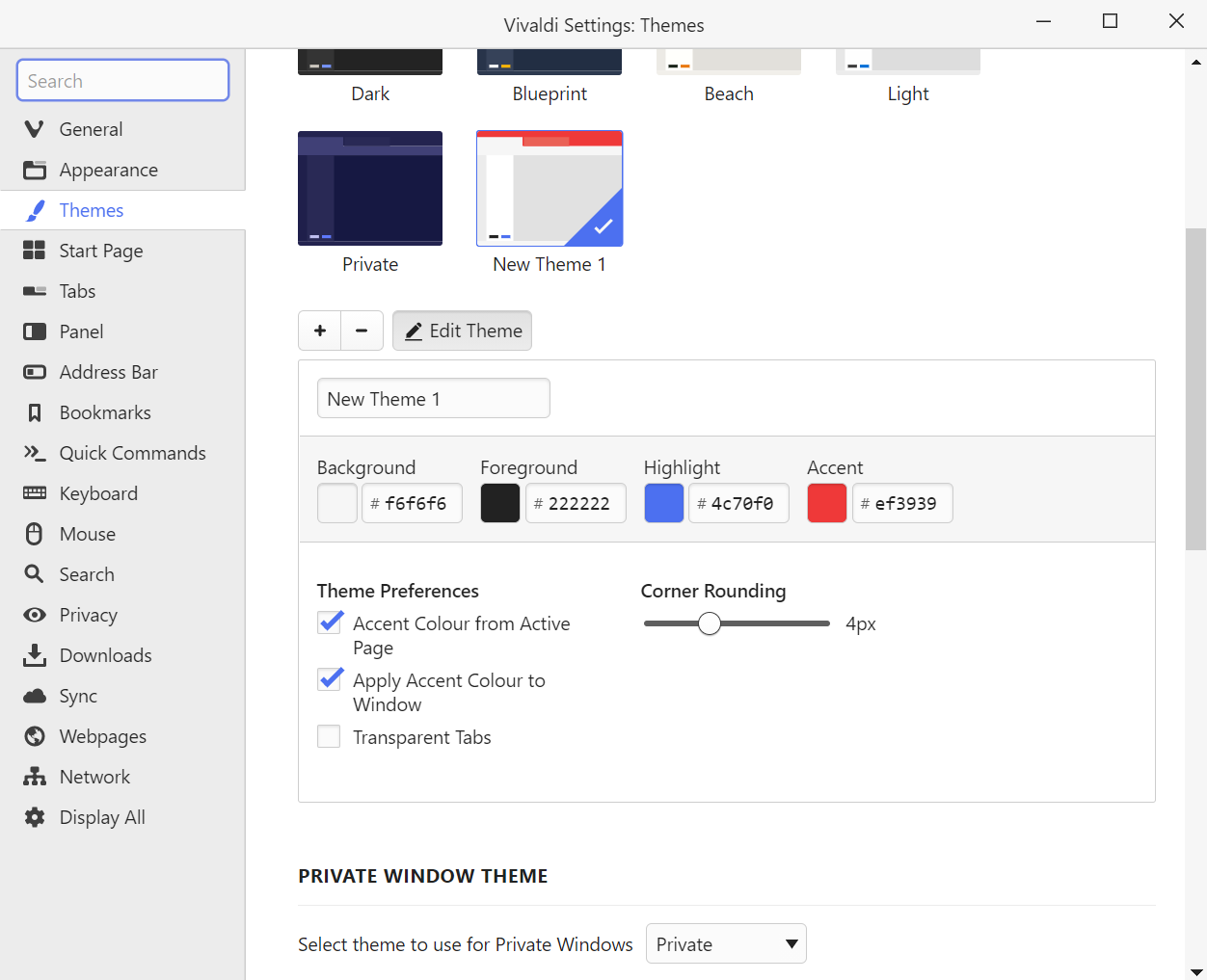 If you clicked the

Edit Theme or

Add Theme button, a theme editor will appear.
Use the colour picker or input a hex colour code to change the Background, Foreground, Highlight and Accent colours.
You can also decide whether the accent colour is the one you chose or it changes to match the website you're on.
Enabling 'Apply Accent Colour to Window' will use the accent colour on the Tab Bar and horizontal menu (available on Windows and Linux). If disabled, the accent colour will show on the Address Bar and active tab.
In addition, the background of tabs can be nontransparent or transparent.

Last but not least, corner rounding allows for another level of personalisation.
---
Private Window Theme
Vivaldi has a separate theme for Private Windows to make it easier to differentiate them from regular Windows. To change the Private Window Theme:
Go to Settings > Themes > Private Window Theme;
Select a theme from the drop down menu.
---
Scheduling browser Themes
With theme scheduling you can set your favourite themes to be enabled during specified times throughout the day. For example, enabling a light theme during daylight hours, and switching to a darker theme in the evening.
Go to Settings > Themes;
Enable Scheduled Themes by ticking the box for Schedule Theme to Change ;
Drag the sliders to adjust theme change times;
Click on a time slot to open a drop down menu and choose which theme you want to use;
Click on and buttons to add/remove theme changing times.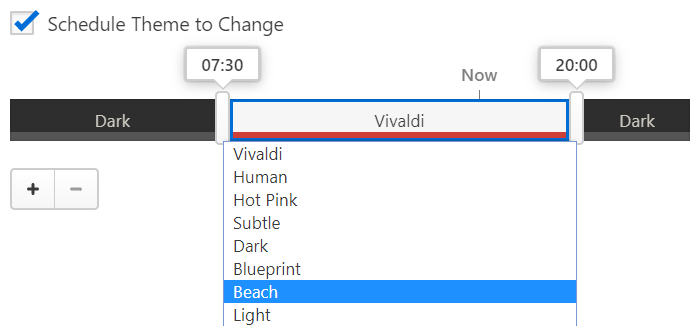 Matching the OS theme
You can also make your browser's theme match the light or dark theme of your operating system. In Settings > Themes > Scheduled Themes, select Use Operating System Theme and assign any pre-installed or custom theme for both the light and dark mode.
---
Change the background of the Speed Dial page
Go to Settings > Themes > Background.
Choose between the preset backgrounds or add your own background image. To use your own, select the last option, Custom, and then click on Open Image, to pick a file.
[Windows 8 and above only]  Your desktop wallpaper will appear in your Start Page settings by default, from where you can select to use it as your Start Page background image. 
---
Window Background Image
In addition to the active tab colour or Theme's accent colour, you can show your Start Page background image on the Tab Bar. To enable it:
Go to Settings > Themes > Colour > Opacity;
Enable Transparent Tab Bar.
To get a more frosted look on the Tab Bar (and Panels), also enable Blur.
---
Dark mode for web pages
If you prefer dark themes and want the web page content to match, first look through the website settings as the site may already offer a dark mode option. If there's no dark mode available, you can use an Extension to switch web page colours.
IMPORTANT Using extensions may alter the website's functionality or break it altogether. Disable or remove the extension when you notice that websites are no longer behaving as expected.
Was this page helpful?
Let us know if something's missing from this article. That's the only way we can improve.