This post is also available in: 日本語 Nederlands
In this article we'll show you how to backup your data and fully reset the Vivaldi browser.
IMPORTANT This article is for advanced users. Following the steps described here will result in losing all your Vivaldi data (Notes, Bookmarks, Web Panels, etc.) and settings, such as cache, history, themes and so on.
If you want to continue and fully reset Vivaldi, please make sure you have a backup of your data before you proceed.
---
Backup Vivaldi data
One option to back up some of your data is to Sync the data. Just make sure you know the encryption password, as there's no way to reset the encryption password without deleting all the data.
Alternatively, you can make a backup of the profile folder (follow the Profile Path on vivaldi://about), which includes some key elements of your Vivaldi setup, such as preferences, profile and settings. Most of the key components are stored within the Default folder, though you should also retain the First Run file stored alongside it. Deleting this file will make Vivaldi assume it is starting up for the first time.
Here are some of the key elements stored under the Default folder:
Bookmarks – contains bookmarks and information from Speed Dials.
Notes – notes taken in the Notes Panel.
Sessions –  saved tabs sessions.
Login Data – website passwords. Note: This file is encrypted and is only usable on the machine that created it.
Preferences and Local App Settings\mpognobbkildjkofajifpdfhcoklimli – Vivaldi settings and configuration.
Web Data – autofill data.
Current Session – data on open tabs.
History – website history.
Cookies – website data.
Extension Rules, Extension State, Extensions, Local Extension Settings, Local Storage, Managed Extension Storage, Extension Cookies and Secure Preferences – all extension preferences and extension data are stored here.
Make a copy of the Default folder and First Run file and paste them, for example on your Desktop or Documents.
---
How to reset Vivaldi settings
Go to

vivaldi://about

.
Alternatively on Windows and Linux open Vivaldi menu > Help > About. On macOS Vivaldi > About Vivaldi.
Make a note of the directory listed under Profile Path.
Open a system window (Explorer/Files/Finder).
Go to the User Data (Windows and Linux) / Vivaldi (macOS) folder.
Once you've located the correct folder, close the browser.
In the system window delete the entire User Data / Vivaldi folder.
Start Vivaldi.
If you have completed the steps successfully, you will see the "Welcome to Vivaldi" screen as you start Vivaldi.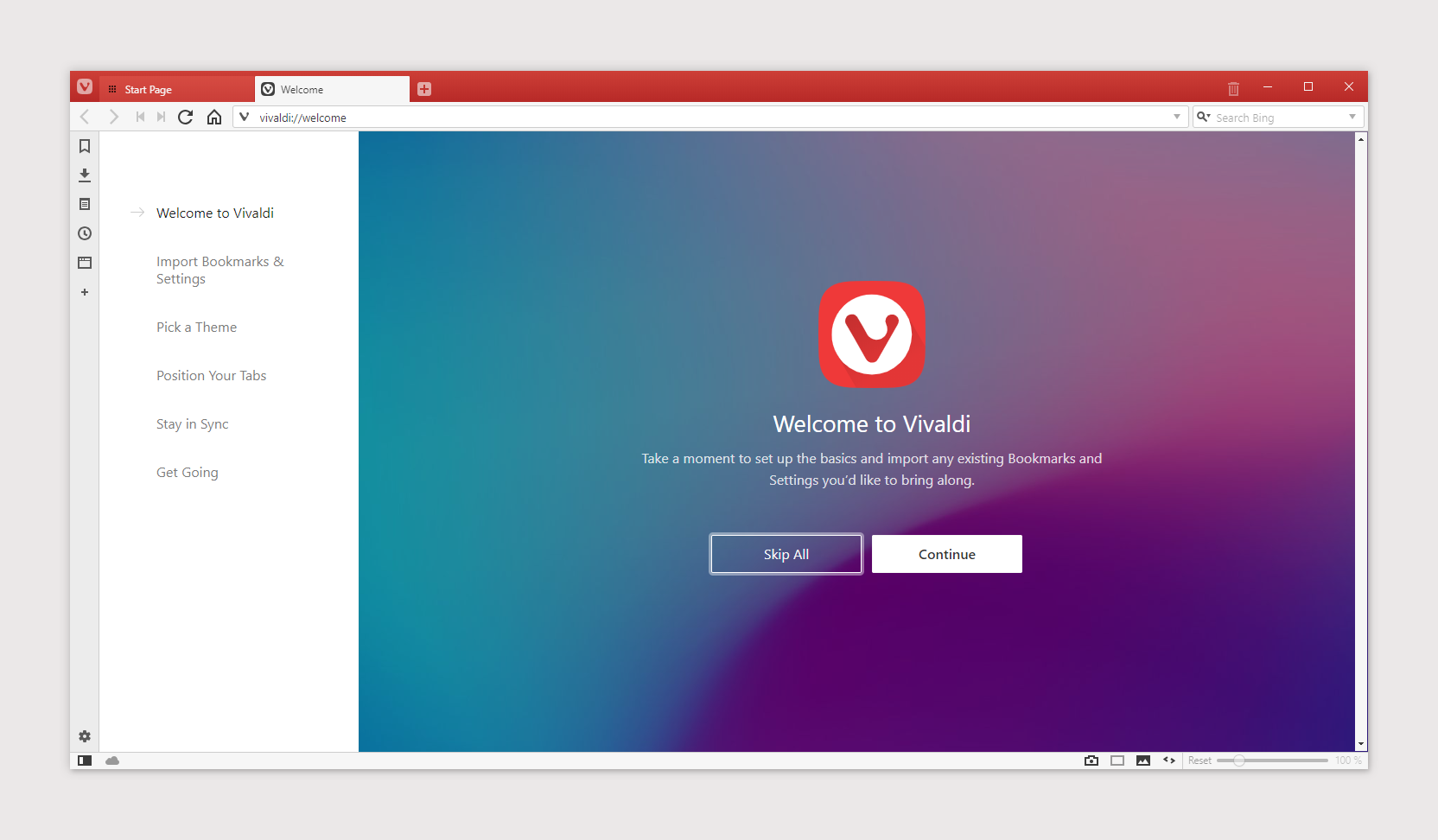 Was this page helpful?
Let us know if something's missing from this article. That's the only way we can improve.