Tasks in Vivaldi Calendar
This post is also available in: 日本語 Français
In addition to creating events in the Vivaldi Calendar, you can also add tasks or convert existing events into tasks.
Add tasks
To add a new task:
Open the main Calendar View;
Click on New Task in the top right corner, between New Event and Calendars;
Type in the task;
Give it a deadline (not compulsory);
Click Add Task.
To make an event into a task, make sure to give it a deadline. Alternatively:
In the Task section, tick the box for Is a Task.
---
View tasks
Tasks with deadlines will appear in the calendar on the day they're due. All tasks, including the ones without dates, are listed in Calendar's Agenda view, in the panel on the right.
Tasks with out deadlines will be listed on top of the Tasks panel in the Agenda view. From the bottom of the panel you toggle on and off showing completed tasks.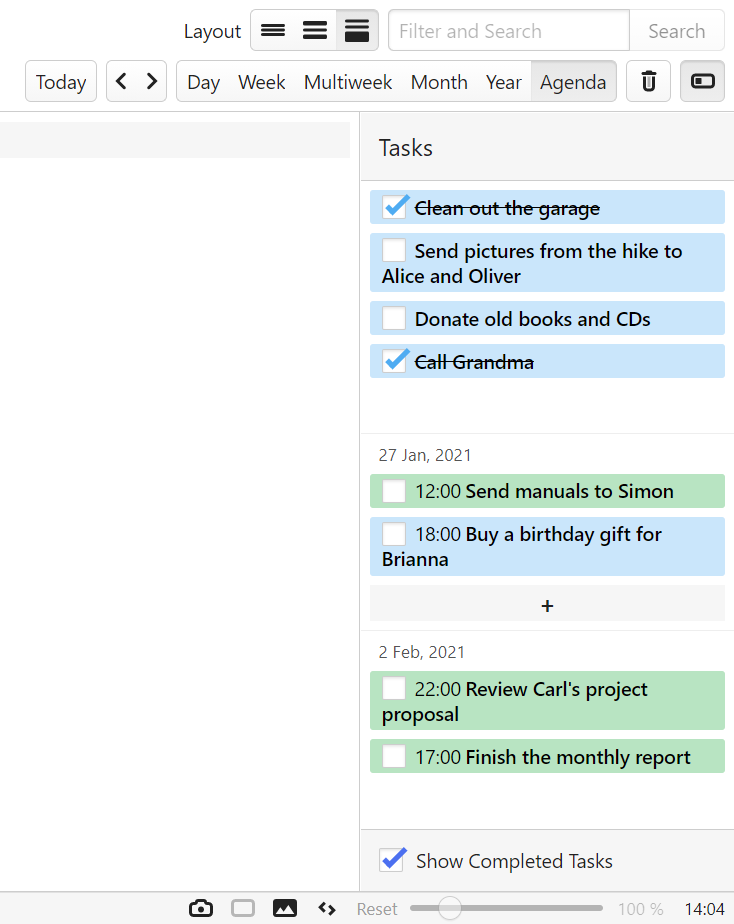 ---
Edit tasks
To make changes to a task:
Find it in the Calendar;
Click on the task;
Make the changes;
Click Done.
---
Mark tasks complete
To mark a task as complete:
Find it in the Calendar;
Tick the box in front of the task time and title.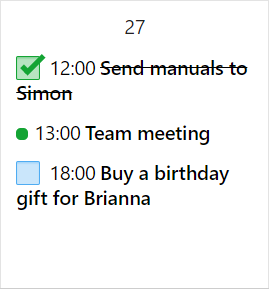 ---
Delete tasks
To delete a task:
Find it in the Calendar;
Click on it to open the task;
Click Delete at the bottom of the editor.
Was this page helpful?
Let us know if something's missing from this article. That's the only way we can improve.