Progressive Web Apps
This post is also available in:

日本語

Русский

Français

Español

Deutsch

Српски

Українська

Polski

Dansk

Português

Български
Progressive Web Apps (PWA) are websites that can be installed as independent applications. They can be opened from shortcuts and used in their own window separate from the main browser.
Install Progressive Web Apps
To install a website as a PWA:
In a tab, open the website you want to install.
While the site is open in the active tab, right-click on the tab on the Tab Bar.
Select Install [website name] from the context menu.
Click Install in the small pop up asking you to confirm your action.
Installing websites that don't support running as a PWA
In case you don't see the option to install the website in the context menu, the website doesn't support running as a PWA. In that case, while the site is open in the active tab:
Choose Create a shortcut from the context menu instead.
Tick the box for Open as Window.
Click Create.
---
PWA options
Save password
If the PWA has an option to log in to your account, the login credentials can be saved in Vivaldi. You can view and manage your Passwords in Vivaldi in Settings > Privacy > Passwords.
Extensions
In case you have installed Extensions in Vivaldi, they can also be used in the PWA. Look for the

Extensions button from the top right corner of the PWA window to access them.
From the

menu, you can:
Access app info and Site Settings, such as Cookies and Permissions.
Copy the open web page's URL.
Open the page in a tab in the main Vivaldi browser window.
Uninstall the PWA.
Zoom in and out, and enable full screen view.
To retain zoom levels after a restart, you can disable Use Tab Zoom in Settings > Webpages > Default Webpage Zoom.
Print the page.
Search the page.
Cast the page to a device.
App shortcuts
If the app has created shortcuts to some of the app's features, you can use them by right-clicking on the shortcut button on the Task Bar. This feature is available only on Windows.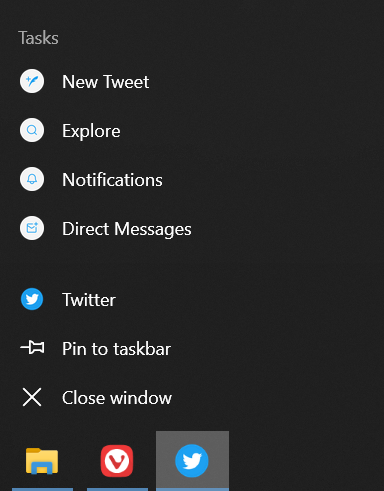 ---
View installed PWAs
To see which PWAs you installed and to open them from Vivaldi, go to vivaldi://apps. Right-click on the app icon on the page for additional options.
---
Uninstall Progressive Web Apps
To uninstall a PWA:
Open the app.
Open the PWAs menu.
Select Uninstall [website name].
Choose whether you want to clear data from the app or not.
Click Remove.
Was this page helpful?
Let us know if something's missing from this article. That's the only way we can improve.