Notes Panel
This post is also available in: 日本語 Español Français Nederlands
Take notes, adding a description and even screenshots to the notes while surfing the web with Vivaldi browser. Add your thoughts and ideas to any sites you visit using Vivaldi Notes.
Viewing Notes
Find and edit your notes from the Notes Panel located on the side or the browser window. You can also use Keyboard Shortcuts (Ctrl+Shift+O / ⌥+⌘+N). For a full window notes editor open the Notes Manager.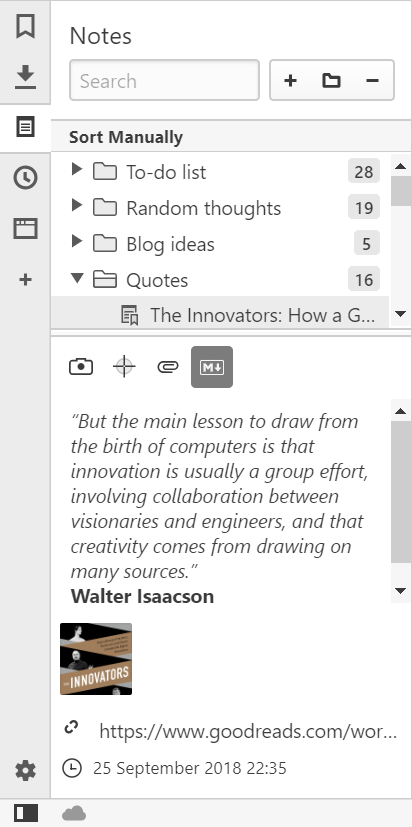 ---
Managing Notes
Creating a new Note
To write a new note, click on the

New Note button on top of the Panel. Everything you type will be saved automatically.
Copy to Note
Add a note by selecting text on a webpage and selecting Copy to note from contextual menu or use the Keyboard Shortcut Ctrl + Shift C / ⌥ ⌘ C.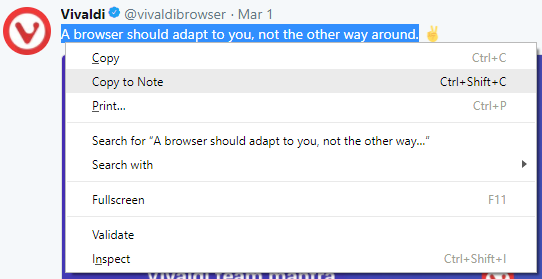 The note will be added with the marked text as body, the webpage link, creation date and a screenshot of the page with the highlighted text.
New Note with Capture Page
In addition to text, you can take screenshots and save them as Notes. To save a screenshot as a note:
Click on Capture Page on the Status Bar;
Select whether you want to capture the full page or just a part of it;
For Format select Create Note With…;
Click Capture.
The note will be added with the capture as an attachment, the webpage link and creation date. You can add a title and note about the screenshot.
---
Searching Notes
To find a note, use the Search box on top of the Notes Panel. Notes can also be searched for using Quick Commands.
---
Editing Notes
At the bottom of the Notes Panel you may:
Edit the note.

Use markdown formatting to make your notes more readable and interesting.

Add an image either from a webpage or from a file on your computer.
Add a webpage link to the note.
---
Organising Notes
Notes can be sorted:
Manually,
by Title,
by Address,
by Content,
by Date Created.
Notes can also be divided into folders. To create a new folder, click on the

New Folder button on top of the Panel and give it a title.
Notes can be moved between folders by dragging the note to the new destination folder.
---
Deleting Notes
To delete a note or a notes folder, either select the note/folder and click on the

Delete button on top of the Panel or right click the note/folder and select Delete from the context menu.
Restoring deleted Notes
Drag the note out of the Trash and place it anywhere above.

Emptying Notes Trash
Right-click the Trash and select Empty trash.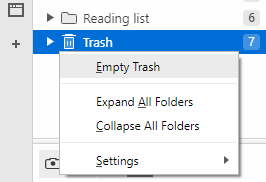 Was this page helpful?
Let us know if something's missing from this article. That's the only way we can improve.