Control everything in your browser from one place – your keyboard. Without leaving the keyboard, the Quick Commands menu lets you:
navigate to open Tabs,
reopen Closed Tabs,
open Bookmarks,
create Notes,
find suggested Search terms
search browsing History,
filter a list of available commands in Vivaldi,
apply Page Action filters,
do simple calculations (after pressing Enter the result will be copied to your clipboard).
How to Use the Quick Commands Menu
Open Quick Commands using Keyboard Shortcuts by pressing F2 / ⌘ E. You can also find it under Tools in the main menu.
Start typing your search/command term.
Use ↓ ↑ arrow keys or scroll to navigate the list of results.
Press Enter or click on the item to issue selected command, or
Close the Quick Commands menu by pressing Escape key.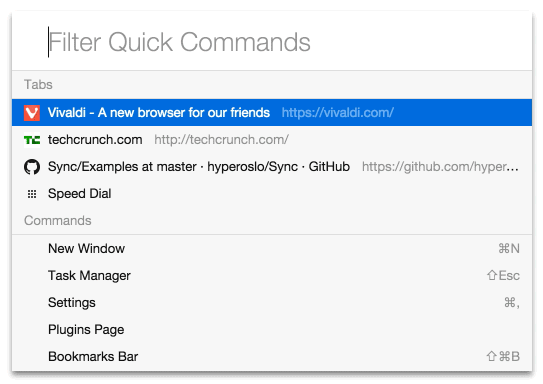 Further reading