The handling of browser tabs and windows in Vivaldi is designed with flexibility and efficiency in mind.
---
Opening and closing tabs

There are several ways to open a new tab:
Click New tab [+] button at the end of the tab bar.
Go to the application File menu and choose New Tab.
Use the keyboard shortcut Ctrl T on Windows and Linux, or ⌘ T on Mac.
Hold down the shift key, while clicking a link, to open it in a new tab or select Open in New Tab from the context menu.
There are also several ways to open a link in a new background tab:
Right-click a link and then select Open Link in Background Tab from the context menu.
Press and Hold the Ctrl / ⌘ key while clicking a link.
Click a link with the middle mouse button.
Perform the Open Link in Background Tab (Over a Link) mouse gesture: Right-click + Swipe down and up.
Open previous/next page in a new tab
To open the previous page or the page you've navigated back from in a new tab, hold down the Ctrl/Cmd key and click on the back button to open the previous URL or the forward button to open the next URL.
To close a tab:
Click [x] Close button that appears when hovering your mouse pointer over the tab.
Go to the application File menu and choose Close Tab.
Use the keyboard shortcut Ctrl W / ⌘ W.
To close other tabs:
Instead of closing multiple tabs one by one, right click the active tab and select, whether to:
Close tabs to the right,
Close tabs to the left, or
Close all other tabs (alternatively: Alt + click on active tab's close button)
Open and close new windows similarly:
Go to the File application menu and select New Window.
Use the keyboard shortcut Ctrl N / ⌘ N.
Reopen recently closed tabs via Trash

The Trash Can, located at the far end of Tab Bar, contains list of previously closed tabs and windows. Click the trash can to reopen recently closed tabs. For a more complete overview of visited pages, visit the History by going to Tools > History menu or using CTRL Y / ⌘ Y.
Reorganize tabs with drag and drop, explore options in the tab context menu and in some cases with keyboard shortcuts.
Clone tabs
To create an exact copy of a tab including its history, choose Clone Tab from the tab's contextual menu. In the Settings you can decide whether cloned tab should open next to the original one, or at the end of the Tab Bar.
Group tabs into Tab Stacks
Tab Stacks are created by dragging one tab on top of another. You can add more, or remove individual tabs from the stack as you see fit. Vivaldi can group tabs from the same domain into a Tab Stack automatically by selecting Stack Tabs by Host from the context menu. Individual tabs can be also selected using Ctrl / ⌘ or Shift keys and grouped into a stack from contextual menu. Find out more about Grouping Tabs.
Tile multiple tabs
Vivaldi allows display of several webpages at once. With active Tab Stack or multiple selected tabs, you can tile webpages either using contextual menu or the Page Tiling button in Status Bar.
Hibernate tabs
Hibernating tabs helps you to reduce the browser's memory usage. To hibernate a tab or a Tab Stack right click on it in the tab bar or Window Panel and select whether you want to hibernate the active tab or background tabs. When you have enabled "Dim Icon when Hibernated" in Settings > Tabs > Tab Display you can easily see which tabs and Tab Stacks are currently hibernating.
You can read more about tab hibernation and memory management on our Team Blog.
Move tabs
Tab's location on the tab bar or in the Window Panel's list can be changed by dragging them to the preferred location. The same can be done with multiple tabs, when they're selected using either the Ctrl/⌘ or Shift key.
Active Tab's location can also be changed by using the following keyboard shortcuts:
– On Windows and Linux: Ctrl Shift Page↑/Page↓
– On Mac: ⌘ ⇧ ↑/↓
Cycle tabs
To cycle through your open tabs use the keyboard shortcut Ctrl Tab.
In Settings > Tabs > Tab Features > Tab Cycling, you can decide in which order they are cycled and whether they're shown as thumbnails side by side or in a list.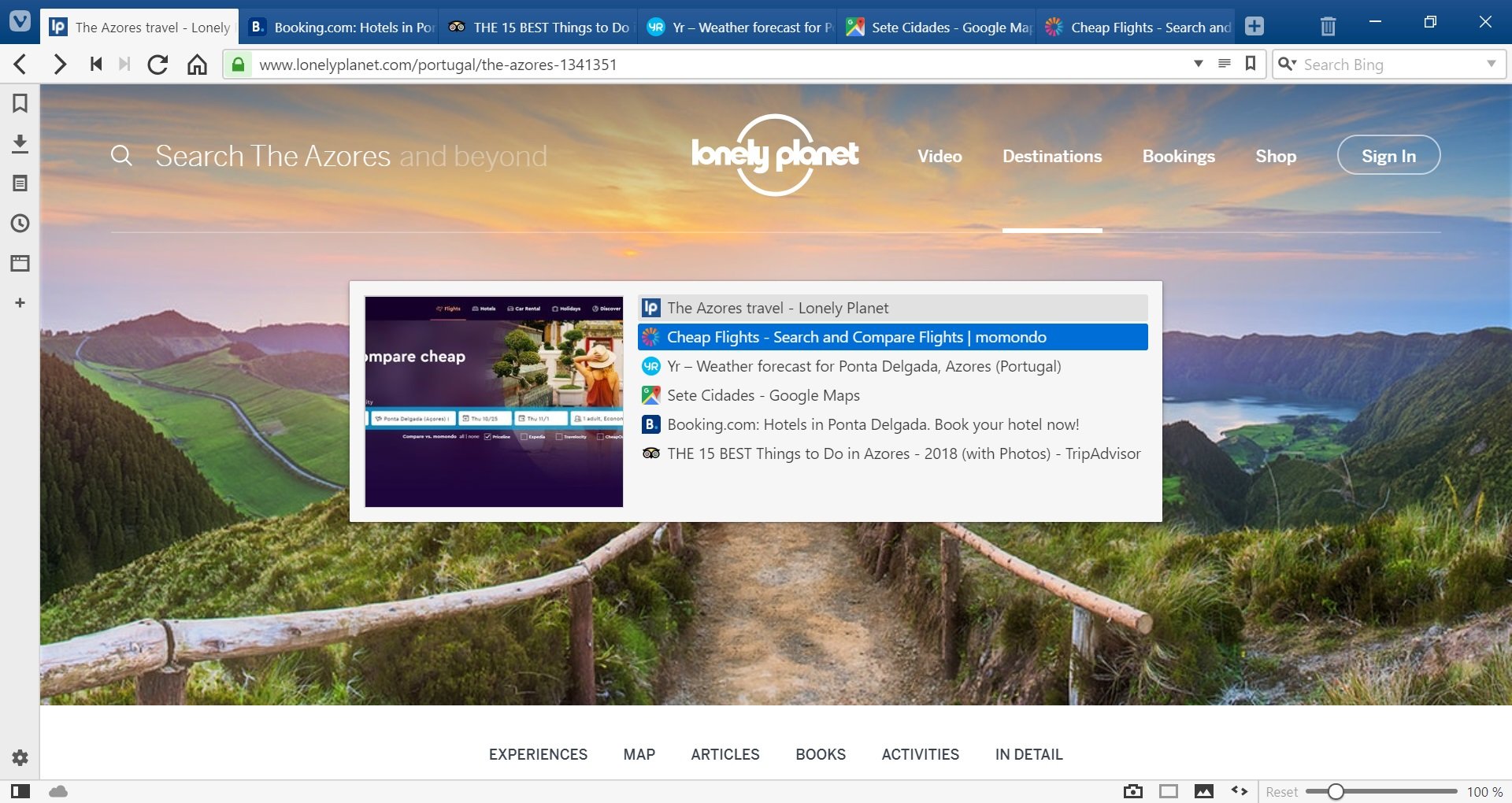 Switch tabs
Switch tabs using mouse scroll
When the mouse is hovering over the tab bar you can also switch tabs by scrolling. This feature can also be enabled in the Tab Cycler settings.
Switch tabs using keyboard shortcuts
Move to next tab Ctrl Page↑ / Shift ⌘ ]. Move to previous tab Ctrl Page↓ / Shift ⌘ [
On Windows and Linux the first 9 tabs in the Window menu are numbered for quick tab-switching. Press Alt W, to access the window menu, and type the number of the tab to be switched to.
Minimize tabs
Furthermore, when you enable active tab minimizing in Tab Cycling settings, you can move to the previous active tab by clicking on the currently active tab.
Tab width
When the Tab bar is either on the top or bottom of the window, you can assign a minimum tab width for the active tab. In Settings > Tabs > Tab Display, select how many pixels the width should be and then, no matter how many tabs are open, the active tab will always be easily noticeable.