Downloads
This post is also available in: 日本語 Русский Español Français Nederlands Српски
Downloads are added and managed through the Downloads Panel.
Accessing downloads
To open the Downloads Panel, either:
Click on the Downloads Panel button in the side Panel;
Go to Vivaldi menu > View > Downloads Panel;
Use the Keyboard Shortcut Ctrl Shift D / ⌥ ⌘ L;
Type "Downloads Panel" in Quick Commands;
Use a Mouse Gesture (create the gesture for the action in Settings > Mouse > Gesture Mapping).
---
Organising downloaded files
All downloaded files by default are listed chronologically with file name and size.
Find the newest downloaded file at the bottom of the list in the panel.
Search for any previously downloaded file in the search field at the top panel toolbar.
All downloads can be sorted by name, type, size, date added, date finished and by address.
The clickable arrow indicates whether the sorting order is ascending or descending.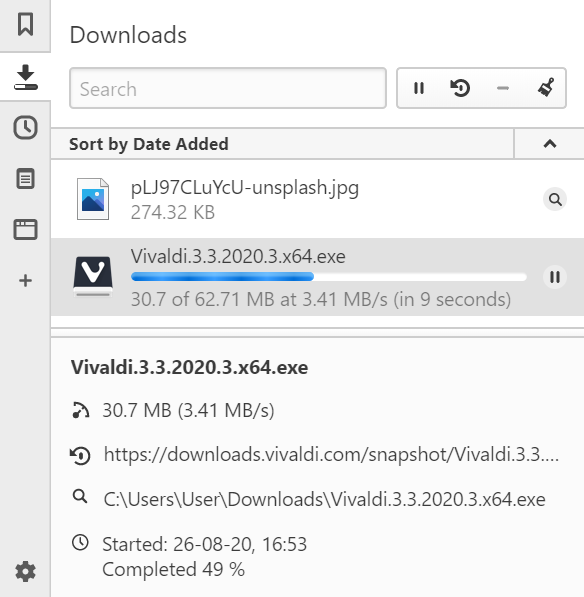 ---
Restarting an unfinished download
Select the unfinished downloaded file in the list.
Click the Restart button located next to the search input field.
---
Managing downloads
| | |
| --- | --- |
| | Stop a file download in progress |
| | Resume selected download |
| | Remove selected download |
| | Clear list of inactive downloads |
| | Restart the selected download |
---
Accessing downloaded files
You can open the downloaded file by double clicking on the item in the Downloads Panel or right clicking on the item and selecting Open File/Open in… .
To open the files location, click on

Show in File Manager/Show in Finder on the right of the file title or right click on the file listing and select Show in File Manager/Show in Finder.
---
Setting the folder path for downloaded files
Go to Settings > Downloads.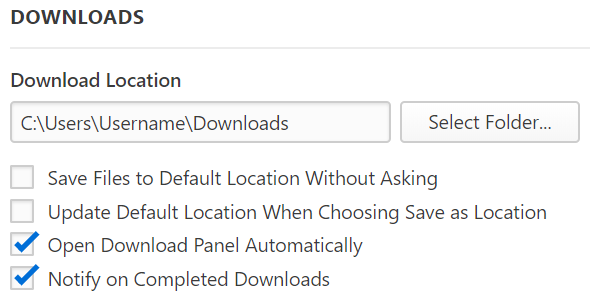 In case you collect all your downloaded files in the same folder, tick the box for Save Files to Default Location Without Asking to save files automatically.
If you tick the box for Update Default Location When Choosing Save as Location, the default location will be updated every time you choose a new folder in the Save As window.
Was this page helpful?
Let us know if something's missing from this article. That's the only way we can improve.