Web Panels
This post is also available in: 日本語 Español Português Français Nederlands Ukrainian Српски
Web Panels are customisable Tabs which allow you to keep your favourite sites easily accessible in the side Panel of Vivaldi. Opening a Web Panel will allow you to simultaneously view its content alongside the tab(s) in your main window.
Adding a new Web Panel
Open the Panel area either by clicking the Show Panel icon on the left side of the Status Bar or using the corresponding Keyboard Shortcut (F4 / ⌥⌘ P)
Click the Add Web Panel button to:
add the current active page,
one of your frequently visited websites or
to type a URL.
---
Right-click anywhere on an open web page to open the context menu
Select Add Page to Web Panel from the menu
The page will be available immediately as a Web Panel.
In case you're asked to download an App or a message says that the page is not available on Mobile, right click on the Web Panel button and select Show Desktop Version. You can do the opposite (select 'Show Mobile Version), when you wish to switch from desktop view to mobile view.
---
Accessing Web Panels
To open a Web Panel, either:
Click on the Web Panel's button in the side Panel;
Use a Keyboard Shortcut (set a specific shortcut for each Web Panel in Settings > Keyboard > View);
Type "Web Panel #" in Quick Commands;
Open Vivaldi Menu > View > Web Panels and click on the web panel you want to open;
Use a Mouse Gesture (create a gesture for each Web Panel in Settings > Mouse > Gesture Mapping);
---
Customising Web Panels
Some Web Panels need more space than others. To have panels with separate width:
Right-click on the Web Panel's icon;
select Separate Width;
from the outer edge of the panel drag it to preferred size.
To display navigation buttons, right click on the Web Panel's icon > Toolbar > Display All Controls.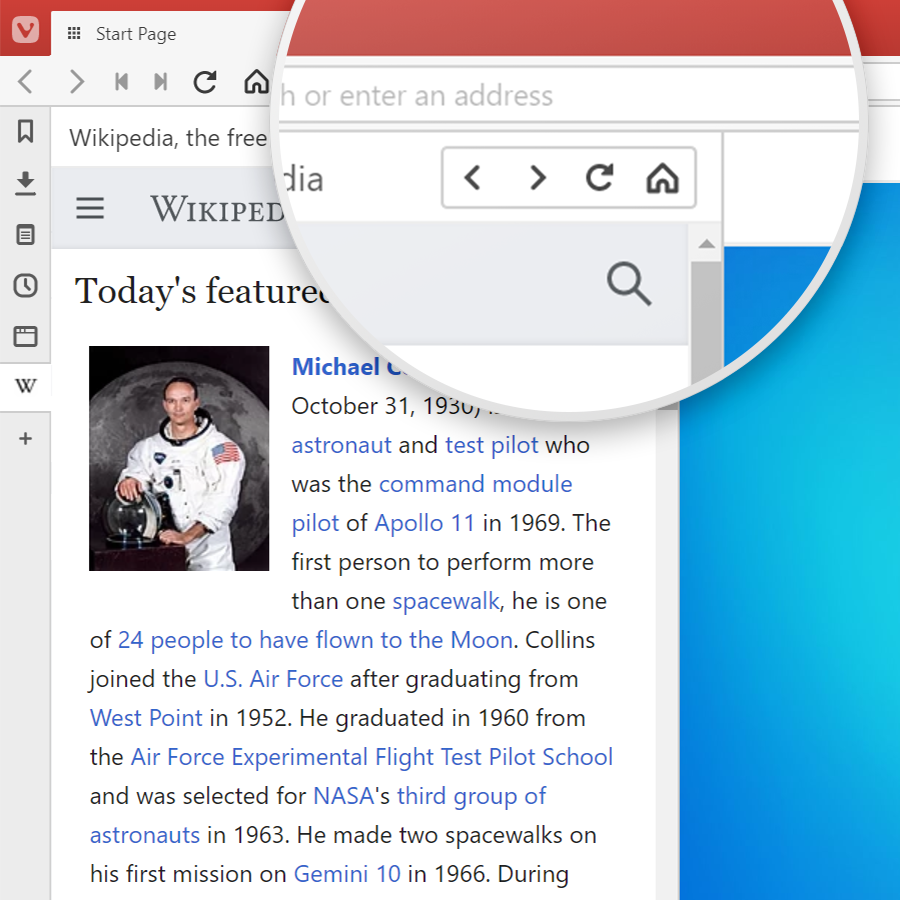 ---
Removing Web Panels
To remove a web panel:
Right-click on the Web Panel's icon;
Select Remove Web Panel.
To restore a deleted Web Panel:
Right-click on the Panel;
Go to Removed Web Panels (if you right-clicked on a Panel or Web Panel button, go to Panels > Removed Web Panels);
Click on the Web Panel you want to restore.
Alternatively, click on Clear All to remove them permanently.
To just hide, instead of remove a Web Panel:
Right-click on the Web Panel;
Go to Panels;
Click on the Web Panel you want to hide in the context menu.
Panels and Web Panels with a check-mark in front of their name in the right-click context menu are displayed, those without are hidden.
---
Popular uses for Web Panels
Below we've listed a few of the most common uses for custom Web Panels. Keep in mind that due to the smaller view area, mobile-friendly sites will work best. Try adding one yourself by opening the link and adding it via the instructions above!
Was this page helpful?
Let us know if something's missing from this article. That's the only way we can improve.