Vivaldi's Status Bar is located at the bottom of Vivaldi's window allowing you to:

Show or hide Panel  is located on the far left of the status bar.
Page info will display the current status of the web page. For example: "Processing request", "Waiting for", "Connecting", "Establishing secure connection".
If you hover over links on web pages, the URL behind the link will be displayed on the Status Bar.
Capture Page: take a screenshot of the web page.
Page tiling: when several pages are stacked aka grouped, display them the way you want.
Toggle images: Choose whether images are to be visible in web pages or not or if only cached images are to be shown. Also, decide whether to loop animations, play them just once or never.

Page actions: page actions provides web-page specific features.
---
Customise the Status Bar
All buttons on the Status Bar can be removed by right clicking on the button > Customize > Remove From Toolbar.
To reset the changes right click on a button > Customize > Reset Toolbar to Default. In case you've removed all of the buttons, go to Settings > Appearance > Window Appearance > Toolbar Customization > Reset Status Toolbar.
---
Hiding or removing the Status Bar
Go to Vivaldi's top menu (

button on Windows and Linux) and click on View >  Toggle Status Bar or use the keyboard shortcut Ctrl Shift S / ⌘ / to hide or remove the status bar.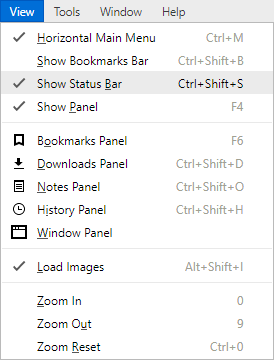 Was this page helpful?
Let us know if something's missing. That's the only way we can improve.