This post is also available in: 日本語 Nederlands
Any browser aficionado will tell you that shortcuts are the key to browsing efficiently. Having said that – the way one person uses shortcuts may not work for you. That's why we've made it easy to control everything in Vivaldi in a number of ways.
Whether you prefer getting around using your keyboard, mouse or unique tools like Quick Commands – take your pick – it's all there and ready for tweaking.
Keyboard Shortcuts
Are you a "never take your hands off the keyboard" type? Then Keyboard Shortcuts are probably already in your wheelhouse. There is a huge amount of flexibility in how you can use them in Vivaldi.
Every single shortcut can be customized – from the usual browse-forward/back and opening/closing of tabs, to  more advanced tools like taking screenshots or accessing one of your custom Web Panels.
How to customize. Open Settings → Keyboard, find the command you'd like to update and simply type your new shortcut in the input field.
Vivaldi Tip
Cheat. If you're into custom shortcuts, it can be easy to lose track once you get going. We feel your pain. Open a cheatsheet with Ctrl F1 / ⌘ F1 to see a list of your current shortcuts.
Mouse Gestures
On the other end of the spectrum, Mouse Gestures are for those of you who tend to keep one hand firmly on the mouse. As with Keyboard Shortcuts, Mouse Gestures let you do just about anything in Vivaldi, but this time with a quick wiggle of your mouse.
Typically, gestures are used by holding down the right-click button and drawing a shape. Using a trackpad? No worries – use the ALT key and draw away.
How to customize. Open Settings → Mouse to check out the gestures that were installed out of the box. If you want to add a new one, find the command you'd like to update, click the edit button and draw your new gesture in the highlighted box. Once saved, your new gesture will be ready straight away.
Edit existing gestures by – you guessed it – clicking the edit button next to the command in Settings.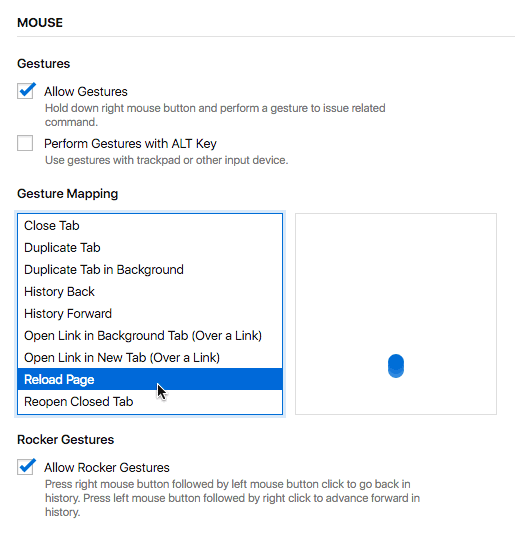 Quick Commands
Another one for the keyboard fans, Vivaldi's Quick Commands menu is a powerful tool that lets you do a whole lot of things from a simple, command-line style interface. With the stroke of a button (F2 / ⌘ E by default) you can open it up and navigate to any open tab, search your Bookmarks and History, or execute commands in the browser.
Of course, you can also complete searches using Quick Commands using any search engine you like (as long as it's present in your Search settings). Typing only your query you can search using your default search engine. Search with another of your installed engines by preceding your search term with the engine's nickname (e.g. "w browsers" to search Wikipedia).
How to customize. Open Settings→ Quick Commands and adjust how you'd like it to behave and what should be included in search results when you type something in.
Lock in a custom Keyboard Shortcut or Mouse Gesture to access Quick Commands by going to Settings → Keyboard Shortcuts.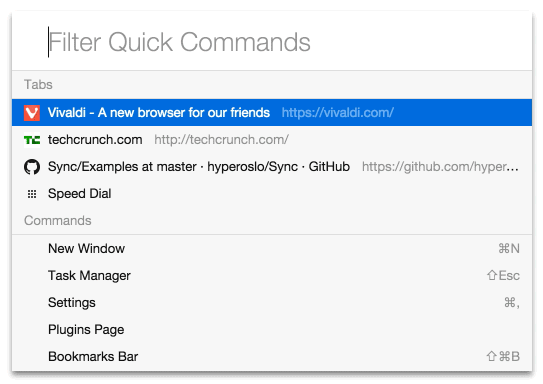 Vivaldi Tip
Open your favorite sites instantly from Quick Commands using Nicknames.
Open your Bookmarks and assign a Nickname to one of your favorites (e.g. "viv" for https://vivaldi.com)
In the Quick Commmands Settings, enable 'Open on Nickname Match' under the Bookmarks subheading.
Open Quick Commands (F2 / ⌘ E) and type the new Nickname.
Et voila! Before you even hit Enter, the Bookmark will be opened automagically.