Downloads are added and managed through the Download Panel.
Where can I find the download panel?
How are downloaded files organized in downloads panel?
All downloaded files are listed chronologically with file name and size.
Find the newest downloaded file at the top of the list in the panel.
Search for any previously downloaded file in the search field at the top panel toolbar.
All downloads can be sorted by name, type, size, date added, date finished and by address.
The clickable arrow indicates whether the sorting order is ascending or descending.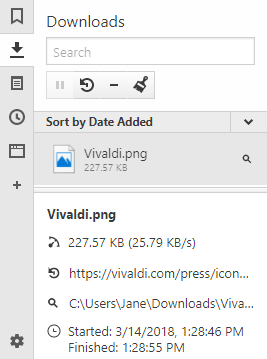 How to restart an unfinished downloading file?
Select the unfinished downloaded file in the list.
Click the Restart button located next to the search input field.
How to manage downloads?
| | |
| --- | --- |
| | Stop a file download in progress |
| | Resume selected download |
| | Remove selected download |
| | Clear list of inactive downloads |
| | Restart the selected download |
Where do I set the folder path for downloaded files?
Go to Settings > Downloads.